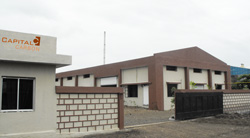 Capital Carbon is one of the leading manufacturers of Steam Activated Carbon in Western India, established since 2010. Possessing manufacturing capacity of 1500 MT per annum, with two most modern rotary kilns.
We have excellent infrastructure to manufacture Powdered, Granular and Patelled Activated Carbon with necessary production facility set up in an Metoda GIDC industrial area, near Rajkot (Engineering hub of India), situated at heart of Gujarat, India.
We use Pinewood Sawdust Base to produce different grades of Chemically Activated Carbons and use Wood Charcoal Base or Coal Base to produce different grades of Steam Activated Carbons. We can also manufacture carbons as per customers specifications.
We have a well-equipped, modern testing laboratory and each material is tested several times during intermediate stages of production and then before dispatch. Testing procedures can be supplied on request.
Capital Carbon is professionally managed by Mr. Nitin Patel and Mr. Rajesh Patel, having wide experience in this field serving customers with at most care.
Our valuable clients are spread across the world in U.S., Europe, Australia, South Africa, U.A.E. and in various Asian Countries.
We would offer all technical assistance for you, including suggestions about what grade to use for an application and enabling you to highly benefit from the use of a carbon.
Our prime motto has always been providing 'Delivering Best Quality at Best Price on Right Time'.
Just try us with your requirement…we would be glad to help you with.